Dickson Housing
&
Waverly Housing
Promoting Avenues of Opportunity
The Housing Authorities of Dickson and Waverly offer a range of Public Housing and Housing Choice Voucher opportunities in Dickson and Humphreys Counties.
Dickson Housing Authority provides housing in 125 Public Housing units & manages 648 Housing Choice Vouchers and 76 VASH Vouchers for a total of 724 Section 8 Vouchers for area Landlords. DHA Fund Inc. (Dickson Housing Authority Non-profit) manages 43 units in Dickson County.
Waverly Housing Authority provides housing in 8 Public Housing units in Humphreys County. The devastating flood in summer of 2021 resulted in the tragic loss of Resident lives and the loss of 62 units at Waverly Housing Authority. Also, due to the flood, Waverly Housing Authority's administrative office has been moved to Dickson Housing Authority's office in Dickson.
Progress is being made with our plans to rebuild 62 units for the families displaced. We are applying for financing. Partnerships are established for development assistance. 2023 should bring HUD approval for demolition of the damaged units on East and West Brookside Drives.
Mission Statement
Our mission is to promote adequate and affordable housing, economic opportunity, and a suitable living environment free from discrimination.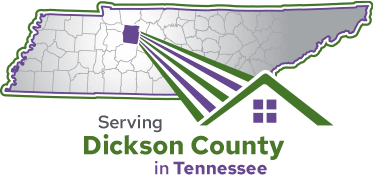 Serving the Tennessee Counties of
Humphreys & Dickson
Mission Statement
Our mission is to provide safe, decent and sanitary housing conditions for very low-income families and to manage resources efficiently. We promote personal, economic and social upward mobility to provide families the opportunity to make the transition from subsidized to non-subsidized housing.